PPE Tech - P2 Mask Made in Australia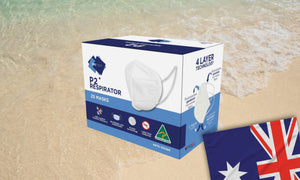 Established in response to Australia's over-reliance on imported PPE (personal protective equipment), PPE Tech offer Australian made P2 respirator face masks. These masks can be used to protect industry against everyday dust, fumes and particles in the workplace. These flat fold disposable masks can also be used by the general public for greater protection on public transport, shopping, airports, travel and when social distancing is difficult. 
All PPE Tech P2 Respirators are manufactured in accordance with the Australian/New Zealand standard AS/NZS 1716:2012 and have been registered with the TGA on the Australian Register of Therapeutic Goods (ARTG). 
What makes PPE Tech's mask different?
Besides from being manufactured in Australia, PPE Tech's P2 Respirators are individually wrapped to allow hygienic sharing among groups and convenience when travelling on-the-go. Thicker gsm (grams per square metre) non-woven fabrics are also used to provide a more comfortable mask that is also breathable and snug. 
Browse the PPE Tech range here