Why A P2 Mask (N95/KN95) Provides The Best Protection For Viruses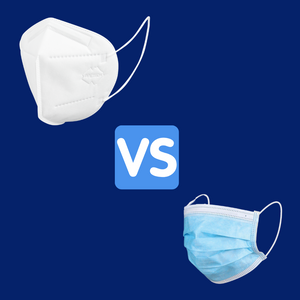 A Real Overview of Why A P2 Mask (N95/KN95) Provides The Best Protection For Viruses
Since the beginning of the Covid-19 pandemic, masks have received newfound fame that was not bestowed upon them previously. During the first wave of the virus, the world faced an unprecedented shortage of surgical and medical masks.
However, as production increased and the world slowly stabilised, people saw a number of different types of masks in the market, including P2 masks.
While the debate on the efficacy of surgical masks and double-masking is ever-going, it's not wrong to say that P2 masks are the most effective.
Below, we discuss P2 masks in detail, shedding light on their higher efficacy against viruses.
Why Are P2 Masks Better Against Viruses?
The Centers for Disease Control and Prevention recommend the general public wear masks when they're outside their homes in situations where they're around other people.
Additionally, people are required to wear masks on trains, buses, planes, and all public transportations. However, the public is still divided on the kind of masks they should wear.
Surgical Masks
A surgical or medical mask is a disposable and loose-fitting mask that offers a barrier between potential contaminants in the air and the wearer's nose and mouth. Besides being called a medical mask, a surgical mask may also be labelled as a dental or isolation mask.
Surgical masks are more prevalent in a healthcare setting where blood and fluid transmission might be a concern. They filter larger-particle droplets, sprays, and splashes.
Not all surgical masks are the same. Some are thicker than others - designed to prevent the entry of certain contaminants - while others are manufactured to allow better breathability.
While some masks have elastic earloops, enabling the same mask to fit different face sizes, others come with head straps and tie at the back of the head.
Respirators
P2, KN95 or N95 respirators are advanced masks, ensuring efficient filtration of airborne contaminants, including viruses. These masks have specifically designed edges that form a seal around the mouth and nose region.
They can be used in hospitals and other healthcare settings and are also commonly used in construction, building, painting or any industry where dust, fumes or particles is an issue. However, the pandemic brought an increase in the general population using the N95 respirators.
Surgical Masks vs P2 Masks: A Comparison
The Infection Control Expert Group endorses the use of masks for preventing Covid-19 transmission. Here's a comparison between the functions, intended use, and efficacy of P2 masks against their surgical counterparts.
Features

Surgical Mask

P2 Masks

Testing and Approval

Independently tested to meet AS 4381:2015

Regulated by the TGA

Independently tested to meet AS 1716:2012

Regulated by the TGA

Intended Use

Provides resistance against fluids, large droplets, sprays, and splashes. Protects the wearer from respiratory emissions in their environment

Provides resistance against large droplets and non-oil aerosols. P2/FFP2 masks are also used in occupational settings by woodworkers, plumbers, painters, and alike to filter fumes and dust.

Fit

Loose

Tight

Leakage

Leakage around the edges when the wearer inhales

Minimal leakage during inhalation

Limitations

Discard after every use

Ideally to be discarded after each use or when there are visible signs of damage or moisture exposure.
As evident from the information discussed in this table, P2 masks are relatively more effective since they have little to no leakage. Additionally, they have been evaluated by the TGA, and there are clear guidelines on their usage.
The TGA advises only to reuse surgical and P2 masks if there is a low supply and the masks are in the following condition:
Intact straps

No visible damage

Fit properly
How To Choose the Right P2 Mask?
The TGA has a guide highlighting the things that determine if a mask is approved or not. According to authorities, you should not purchase face masks that are not intended by the manufacturers to be used for preventing the spread of disease in public.
In the United States, according to the CDC, you should purchase masks approved by the NIOSH along with other PPE. Moreover, the CDC has a picture guide on its website to help people differentiate between real and counterfeit P2 masks.
Likewise, NIOSH also has an infographic to help you identify if a mask is approved for use.
Here are some tips to ensure you're buying the right masks:
If you purchase masks from a different country and have concerns about their efficacy, consult the TGA's comparison guide on respirators standards since the organization has conducted a market review of the face masks sold during the pandemic.
Conclusion
To wrap up, there's no doubt that P2 masks are more effective at keeping viruses out than surgical or medical masks. Since they ensure a proper fit, they do not allow any leakage during inhalation.
So unless you're expecting to come into contact with blood and other fluids, it is recommended to use a P2 mask for the best protection in crowded areas or public transport.