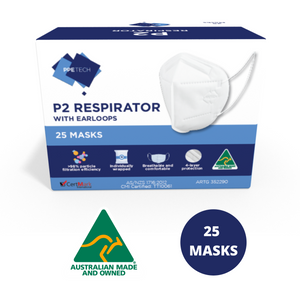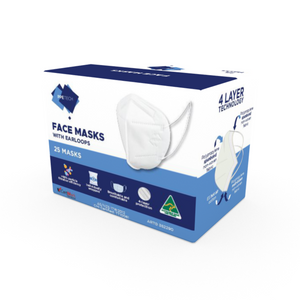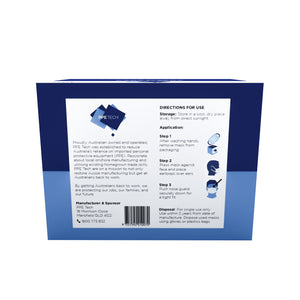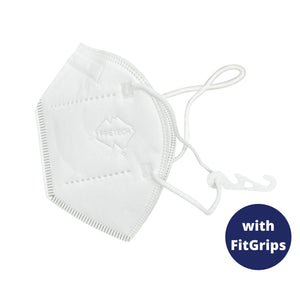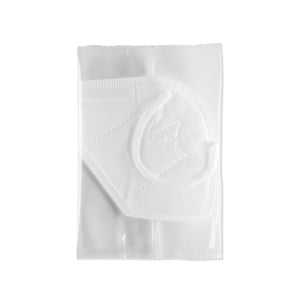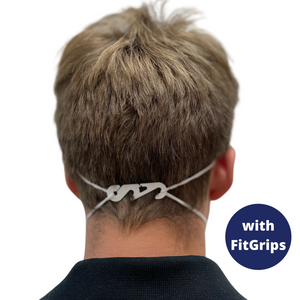 Instructions
1 - Start your Augmented Reality Experience by hitting the start button
2 - Allow the camera feed
3 - The 3D model takes around 3 seconds to track your face
The most comfortable disposable face mask you'll ever wear! The PPE Tech P2 Face Mask is a 4-layer, Australian-made mask with greater than 98% particle filtration efficiency. Extra comfy and strong earloops ensure a snug fit. 

Providing All-Round Protection 
Our disposable masks protect you from different kinds of particles in your environment, including the following: 
Dust: If you're involved in woodworking, construction, or mining, you'll be exposed to a large quality of dust that can cause respiratory concerns and coughing. Wear a PPE Tech mask to keep yourself safe. 
Fumes: Fumes are common in many industries, including welding and glassworking. These fumes pose a health hazard since they can sometimes lead to heavy metal poisoning. But with one of our P2 masks, you can leave this worry behind. 
Mists: Fine particles and mists are a hazard in the healthcare industry, with a risk of spread and bacterial transfer.
Vapours: Like mists, vapours also cause respiratory concerns. So, healthcare workers and patients are required to wear masks in certain circumstances. Our masks are made according to national standards to provide full protection against airborne moisture particles. 
Tested, Certified & Approved to Australian Standards
 

Tested in Australian
Laboratories





>98% Particle

Filtration Efficiency




 

Approved to


AS/NZS 1716:2012




 

Certified
TT10061

 

ARTG 352290
How to Apply

Step 1

After washing hands, remove the mask from the packaging. 
Step 2

Press the mask against the face and place earloops over the ears.
Step 3

Push the nose guard securely down for a tight fit.
Storage
Store in a cool, dry place away from direct sunlight. 
Disposal
For single use only. Use within 2 years from the date of manufacture. Dispose of used masks using gloves or plastic bags. 
Safe Use Guidelines
Follow the guidelines mentioned below to ensure the safe usage of your respirator or P2 masks. 
Do 
Wash your hands after you remove your mask. 
Use a new disposable mask every time you head out. 
Ensure the mask is snug and covers your nose and mouth properly. 
Remove the mask by touching the earloops rather than the front part. 
Don't 
Share a mask with anyone, irrespective of your relationship with them. 
Touch the mask while you're wearing it. 
Reuse the P2 mask after removing it. 
Let the mask sit on your neck or head after you've removed it. 
Wear a mask when doing activities that might make the mask wet, such as swimming. 
If you want to learn more about the functions of each mask and its comfort level, get in touch with us today.